UPDATE: JULY 22
This is an update for our school reopening plans. Recall the first two bullet points in our plan:
School policies must be flexible and nimble in responding to new information.
Administrators must be willing to refine approaches when specific policies are not working
This message is a response to refine our approaches as we receive more information. On or before Monday, July 27, 2020, your family will receive a form to let us know your family's decision to start the school year on August 17, 2020:
fully remote
face to face on campus with an emphasis on outdoor learning in the first two weeks
You may have seen the news that Western Washington large school districts have made the decision to not reopen in the fall for face to face instruction. Families in these schools do not have an option. We have been in conversation with Washington Federation of Independent Schools (WFIS) through the day as districts changed and released their decisions.  Health guidelines have not changed. We have confirmed that we are still within regulations for reopening based on our plan. You can see a reminder of our reopening plan visually and also found in more detail in our Wakelet Collection.
Why can Renton Prep still reopen?
We realize there are factors that will prevent especially large districts from opening because of challenges that our school has already worked through. Four examples include:
Challenge with bussing for public schools and the impact on start time schedules and routes
Challenge in creating cohorts where the same students remain together to decrease interaction with other students in large departments or activities
Challenges in contract tracing and quarantine across extra-curriculars that can't guarantee social distance should an outbreak occur and increased risk such as closer contact through sports, moving from one building to another to interact with other large groups of students
The larger the number of people who interact, the greater the chance of spread
Our reopening plan was based on our education being contained in one building, mitigating the spread between ongoing consistent and larger interaction and contact with other youth organizations, schools, or activities. Our plan allowed the break in potential transmission as seen in the second diagram by staying self-contained.
Our reopening plan accounted for our school being:
a single building
contained cohorts (as we have already established as our standard educational practice)
expansion for re-arranged furniture
outdoor learning spaces
Approved air circulation in enclosed spaces
Face coverings that decrease aerosol transmissions from accumulating in the air in enclosed spaces
no students mixing in extended care
no connections to outside community partners with attachments to larger school systems (such as Renton IKEA Performing Arts Center or Renton Community Center for PE)
We have been made aware of areas that we can tighten our protocol to give us the best chances of remaining open even as other organizations experience an outbreak or require closure. For us to demonstrate our ability to remain open for face to face instruction while other schools are shuttering, we are aiming for the actions all families can take to realize that their choices and actions can have implications for the rest of our school community.  We have been following precedent set by camps that have opened in the summer to decrease spread of virus and considerations that have emerged in recent studies.
Our added guidelines for all families who choose to start school face to face on August 17, 2020 will include:
Enhanced Contact Training
As planned, we begin contact tracing through Ascend on Monday August 3, 2020 to include a base screening protocol two weeks before on-site education begins
We ask that all students who wish to return on site on August 17, 2020 self quarantine for two weeks leading up to arriving on site to give us the best possible chance of a healthy start allowing us to stay open
It only takes one asymptomatic student to start an infection in the school
Increased Risk Activities
Families hold differing opinions on face coverings and gatherings with people outside of those they will interact within the school – the more people you engage with and the less frequently your family engages in health practices and guidelines the higher the risk of becoming a vector and bringing infection into the school
We are requiring your family to notify the school office of any sustained engagement with outside organizations as that increases our school's risk of no longer being able to maintain our reopening plan (see diagram above).
This may require you to be primary contact between the external organizations contact tracing plan and our school office to alert us immediately if there is a COVID-19 concern from that organization
This could include multiple times each week of community activities with extended numbers of children or youth
Families who choose to engage in higher risk activities, and/or who do not consistently wear face coverings per guidelines and/or engage with others prior to the school opening are increasing the risk of becoming a vector that may introduce COVID-19 into the school
We may ask that families who choose what is best for them even if it increases risk to others in the school community to select the 100% remote option to decrease the risk for those at school who wish to abide by protocol
As always, we want families to make the best decisions for them for their lives and families. However, to maintain and keep our school open for face to face learning even as other districts are closing, we need to know that our community is working together for the best of all involved. Your decisions can have an impact on whether our school can remain open or not.
Please also note that we can stay open for face-to-face instruction as long as our teachers are healthy and able to maintain in-person adult-to-student ratios. If our on-site teachers are exposed to a known case of COVID-19 or symptoms that appear similar they may be required to self-quarantine for 2 weeks. This will impact the operation of our on-site instruction and impact all families of students in that class. If the contact is found to extend beyond that class through contact tracing, we may be required to close the entire school for a duration of time to stop the potential spread.
Thank you for your cooperation as we enhance our safety protocol to allow the best chance for us to remain open for face to face instruction.
Based on our learning from February 28 to July 14, 2020, we have created a new iteration of design to prioritize two things as we reopen and return to an optional physical classroom amidst the coronavirus pandemic. We are prioritizing health and a continuous, streamlined, stress-reduced learning process.
We care about mental and physical health. We care about your experience as a family and want to reduce family stress as much as possible, while also decreasing faculty stress.
These priorities will require some changes from our standard educational procedure.
Renton Prep has established plans for rapid transitions between face-to-face and continuous remote learning as we plan for reopening. Schools in King County may be required to close based on decisions by a health authority. Ahead of the 2020–2021 school year, we have prepared for the following:
Our plans for rapid transition between face-to-face and continuous remote learning, which may be required based on health authority decision, is based on our partnership with Red Comet and Florida Virtual Schools, sharing the same international-accreditation by Cognia and approved for Washington State through OSPI. This allows your student to have a minimum of two dedicated teachers: one lead classroom teacher for face-to-face instruction and another teacher dedicated to online instruction for core courses. In addition, each class will have a dedicated liaison as an intermediary between the online content and in-person instruction. This staff structure will allow for a rapid shift between formats while allowing a cohesive, consistent progression of core content.
We have created a flexible school calendar with additional days included to address emergency short term school closures and the need to transition learning environments.
We have built a more streamlined and sustainable continuous remote learning model that will be ready to be deployed if schools are required to be closed for long periods of time and for those families who wish to be 100% remote.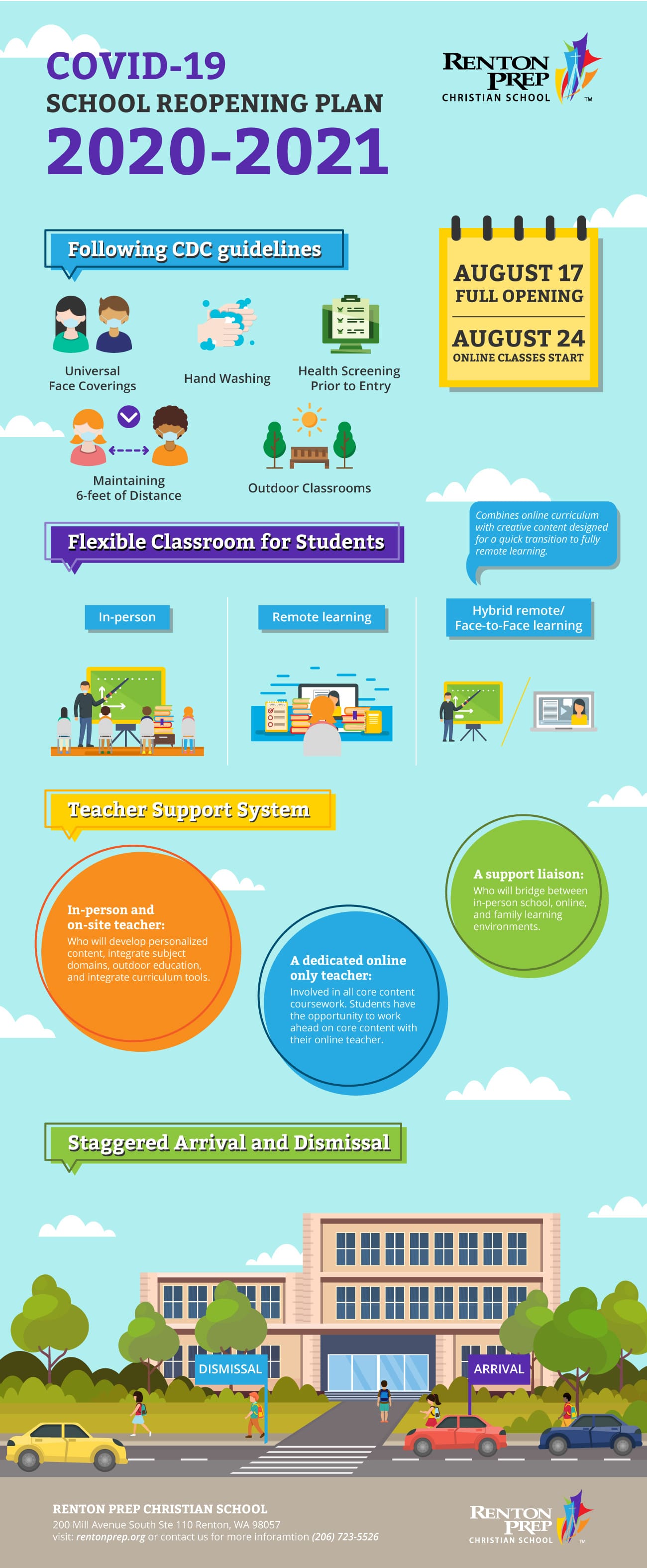 Inclusive Classroom Environment Considerations
Renton Prep will have options for parents who opt for complete remote learning. We saw some incredible learning gains in students despite the shift to remote learning in the spring. With technology in our classrooms, students were able to engage continuously, giving us confidence that students can continue their education remotely if needed.
While all Renton Prep students are welcome to return to campus, as a technology-first school, we have developed new options for remote learning.
Hybrid Learning
Our hybrid learning combines a streamlined online course curriculum with creatively developed content designed by the face-to-face teacher for personalization, integrating subject domains, outdoor education, and adaptive content supported by the curriculum tools you have come to know and love at Renton Prep.
This hybrid allows for family choice with 100% remote learning or face-to-face options. In addition, it allows for quick transition to fully remote if required. It allows flexibility and ease of access for families if a student needs to quarantine for two weeks. Face-to-face instructors will create, design, and assess interdisciplinary and STEM content with non-traditional assessments and our standard Achievement Levels as identified in our Family-Student Handbook.
The combination of the progress in face-to-face and online will provide the combined progress assessment and demonstration of learning across the year.
Streamlined Online Course Curriculum
Renton Prep was the first school in Washington State to partner with Red Comet years ago. This is a dual enrollment program. Because of our partnership, Red Comet is offering us the opportunity to streamline our Hybrid program. Renton Prep has confirmed with our online curriculum partner that students should initially be placed in their same peer-age course.
Students who are interested and motivated to progress to higher levels are welcome to progress through quickly and test out, then be placed into the next level course. This option will only be available for students who demonstrate internal motivation and self-regulation with an interest in more independence and/or parent support. Otherwise, we ask students to maintain a pace where our educators can support their learning.
Assignments for Online Coursework will be assigned and assessed by their remote instructor for standard content. Students will need to communicate once a week with the online instructor.
Continuous Remote Learning
One of the concepts the Reopening Washington Schools Workgroup determined would best meet the needs of Washington's schools is to engage in a model of "Continuous Learning 2.0." This simply means a new iteration of whatever students experienced in the spring of 2020.
Although well prepared, part of our role in a continuous improvement model is to keep iterating on a design to make it even better. We have taken feedback from faculty, families, and students. The model is only intended to be fully remote for all students if health authorities determine it is not safe for any large group of students or staff to be in their school building together or if more adult faculty are sick and there is not enough faculty to meet the required ratios for social distancing.
This is also part of a plan that may require short-term closure due to exposure to COVID-19 or as quarantine precautions as advised by health authorities. Our Hybrid learning and partnership with Red Comet provide a consistent, predictable, cohesive plan that accounts for unknowns.
Physical Distancing and Other Safety Precautions
Our school is small. Our space allows for social distancing indoors and outdoors. Our building health codes are modern and up-to-date including approved ventilation indoors.
Our school design already employs cohorts that stay together throughout the day, decreasing the number of student interactions. This allows us to operate five days a week without needing an A/B schedule to allow for social distancing.
This year, we have decreased the number of students enrolled to account for the maximum students to allow for social distancing and cohort interaction requirements as per the guidelines received. Public Schools likely need to employ an A/B schedule to decrease the number of students in each cohort and decrease contact with other groups of students.
We have adapted to allow the number in each cohort that allows us to be face to face 5 days per week.
Universal Face Coverings
Washington State currently requires employees wear face coverings as well as students to decrease risk of transmission through droplets. When wearing face masks, the consultation with the epidemiologist said the physical proximity is not as much of a concern as there is a substantial decrease in transmission of virus-containing droplets being expelled in the air (from talking, laughing, sneezing, coughing).
We are investigating the potential substitution of face shields to wear during lunch or snack times and outdoors where there is slightly closer contact and for a reprieve from face coverings.
Maintaining 6-feet of distance
We are increasing the space between desks by rearranging the layout to maintain social distance. Students and staff will be required to maintain a distance at all times, including hallways, meetings with families, pickup and dropoff, and hugs and greetings.
Hand Washing
Children and adults will be encouraged to wash their hands when they arrive, before meals or snacks, after outside time, after going to the bathroom, after blowing their nose or sneezing, and before leaving to go home.
Contact Tracing
By partnering with Ascend from Basecamp Health, we will be using a contact tracing tool powered by artificial intelligence to help mitigate risk. This tool will give clear visibility of current risk and continually will assess teachers, staff, and students based on thousands of data points. Ascend evaluates over 100 known COVID-19 risk factors to evaluate each person's risk individually.
Health Screening Prior to Entry
We are required to check for signs of illness for all staff and students at entry to school each day. Parents or guardians will use an electronic form to answer the following questions prior to arrival. These questions will be accessible on mobile devices or computers and will help give clear visibility on COVID-19 risks.
Does your student have any of the following symptoms [on the first day after a break or for a new student, please ask about symptoms in the past three days (72 hours)]:

A cough
Shortness of breath or difficulty breathing
A fever of 100.4°F or higher or a sense of having a fever
A sore throat
Chills
New loss of taste or smell
Muscle or body aches
Nausea/vomiting/diarrhea
Congestion/running nose – not related to seasonal allergies
Unusual fatigue

Does anyone in your household have any of the above symptoms?

Has your student been in close contact with anyone with suspected or confirmed COVID-19?

Has your student had any medication to reduce a fever before coming to school?
The student must be excluded from school if the answer to any of the above questions is "yes."
Similarly, if the student has been in close contact with someone who has confirmed or suspected COVID-19 in the last 14 days, they should not attend school in person and continue with their remote learning option while social distancing.
Changes to School-Wide Activities in Reopening
Following OSPI Guidelines for reopening, Renton Prep is altering some school-wide activities to maintain the safety of our students and staff who are attending class in-person. Below are some important changes that will be made this year until further notice.
Open House
We traditionally provide an open house for families to meet teachers and families. We will provide an option for families of one class at a time to greet their teacher, go over basic safety protocol, and bring supplies.
Student Supplies
In previous years, educators have made the decision whether they maintain common, shared supplies or students maintain their own. To decrease the risk of spreading the virus, we will not permit common or shared supplies across students.
We will also ask that students bring supplies home at the end of each week to disinfect them. All supplies should have student names written on in permanent ink to support contact tracing (or to identify the owner if students need to pick up left items). Students should have their own container or holder for these supplies such as:
Pencils
Pens (including Surface pen)
Whiteboard markers
Erasers
Scissors
Glue
Hand sanitizer
Tissues
Students should not share their technology devices with classmates or touch each others' screens or keyboards. Our tools are collaborative and allow for sharing, co-authoring, and collaborating over the cloud through Microsoft Office 365 Teams.
Outdoor Classroom
Our school is providing a creative solution to decrease risk by shifting initial learning to outdoor classrooms as much as possible, as weather and the lessons permit. The first week of school will focus on relationship building, teamwork, exploration and STEM experiences outdoors, physical education to support health and immune function and lung strengthening support. In week two (starting August 24, 2020), students will begin training with the hybrid curriculum that allows for quick adaptation between face to face and remote. We have identified dedicated outdoor spaces for these learning experiences.
The first strategies we have selected to increase physical distancing is possible due to the additional space we acquired with the fourth floor, and the City approved the use of outdoor space:
Courtyard
Patio (fenced and "party tent")
Lower lot
Fields
Walking trails
Altered Arrival and Dismissal Times
We are staggering arrival and dismissal. OSPI guidelines state that drop-off and pick-up will require families to maintain at least six feet of distance from each other and reduce the need to enter the school. This may include staggering drop-off and pick-up times for various groups, one-way traffic flows, greeting students at their vehicle, or placing distancing markers on walkways.
Arrival/Drop-off
Kindergarten Prep through 2nd Grade — 8:20-8:30 (class starts at 8:30)
3rd through 10th — 8:35-8:45 (class starts at 8:45)
Dismissal/Pick-up
Kindergarten Prep through 2nd Grade — 3:20-3:30 (Final pick up at 3:45)
3rd through 10th — 3:35-3:45 (Final pick up at 4:00)
Faculty and Family Interaction
Continued messaging and training for family and faculty to maintain distance and refrain from hugs as greetings (even in parking lots or common spaces).
Adjustable Schedule
Based on Epidemiologist recommendation, an early August start will provide the flexibility to end in-person instruction by Thanksgiving break to decrease the potential asymptomatic transmission of COVID-19, colds and flus during the late fall and winter.
Early start also provides us better weather for outdoor education and relationship building while decreasing risk for transmission. The first week of December will be available for make-up time in person in the event that we need an emergency closure and all is clear the first week of December. Otherwise, the school hours in the first two weeks of December are planned to be remote. If students finish all their necessary content (completing those hours early — prior to Thanksgiving break) students will not need to work on academic content remotely during this time.
Cancellation of Extended School Care
It is more difficult to keep students from very close contact in extended school care before and after school. As a social distancing strategy to reduce the amount of time students are close to one another and mixing with other grades while maintaining social distancing, we are regretfully unable to provide extended school care during the Global Pandemic.
Hallways and Restrooms
We will reduce the number of students using the stairwells and increase the distance between students as they exit the building and enter. Educators will also support staggering restroom breaks to accommodate for increased space.
Limiting Non-Essential Visitors
We are limiting the presence of volunteers for classroom activities, outside guest visitors, and meetings during. Invited guest speakers will be offered the opportunity to speak to students outside with social distancing to decrease risk of exposure or a remote call.
Student/Family Meetings
Due to recommendations for families and students not to meet in offices Family-Faculty meetings will be scheduled through Rachel Huggins in the School office for remote calls with teachers. As per our school policy with full audio and video surveillance, all Family-Faculty meetings will be recorded through Microsoft Teams.
When a faculty member needs to privately meet with a student to address behavior or academic concerns, rather than meeting in an open space as per health guidelines (not in a small office), the meeting will take place via remote platform at a time that does not take the teacher away from primary face to face responsibilities. If it is a quick matter that can be conducted discretely, the teacher may pull the student aside and decrease the 6-foot distance to speak more quietly as long as the closer contact is less than 15 minutes.
Chapels
We are redesigning school chapels to take place in open air with social distancing when weather permits.
Christmas Concert
We have been advised to cancel singing in person for practice and performance for the 2020-2021 school year. This will require us to shift our annual Christmas Concert to a remote recording of a handball choir where children may socially distance during rehearsals and performance.
An alternate option is to hold the events outdoors. Based on transpiring data and regulations, we may consider outdoor rehearsal, acapella singing and outdoor "caroling" that will allow distance. Families will be notified that attending large gatherings increases risk but holding outdoors decreases the risk in conjunction with social distancing.
Dance Performance
We are collaborating with University of Arizona and University of Washington to determine if we can provide a creative alternative to dance instruction that increases social distance but still allows creative expression, health benefits of strengthening lung capacity and cardio, as well as bringing social awareness through storytelling. If this is possible, we will record and produce a virtual showing (potentially outdoor recording to merge nature and the arts).
Field Trips
We are reducing the number of field trips due to:
Seattle venue closures and arts season cancellation,
challenges with public transportation,
maintaining social distancing
We are working with King County Public Health to determine which options we can safely offer to still allow for real-world experiences off-campus, in nature, and in venues that allow small groups following health guidelines. For field trips that become available, to reduce transportation interactions, we will request families who are able will drive their own student to the location to support transportation. Students will wash hands before leaving and upon returning.
What if a student/staff member gets sick?
This is really important and also multifaceted, with significant implications for course planning. There are several different scenarios under which students and/or teachers will need to be absent from the classroom.
Students or staff with symptoms
If a student or staff member gets sick with any symptoms that could represent COVID-19, they will need to self-isolate until they can be tested and shown to be negative.
This means any student with a sore throat, cough, fever, runny nose, fatigue, or body aches will have to stay home and not go to class until they are able to get tested and that test result comes back negative. This may take several days, and it may also change if there are large increases in numbers of people with symptoms, as that might overwhelm local capacity and bog things down.
During this pandemic, trying to tough things out and still go to work is to potentially endanger our colleagues and our students. We must stay home, get tested, and wait for the test results.
Students who are in close contact with a COVID-19 positive case
Any person who is a close contact of a known positive case will need to quarantine themselves for 14 days. This would include their family members, roommates, close friends, or any others with whom they have been in close proximity for more than 10-15 minutes (such as the posse of friends with whom they went to the bar). Even if these students don't develop symptoms and even if they get a negative test during their quarantine period, these contacts will still need to stay home for 14 days.
Staff would not, under normal conditions and if following the recommendations above (distancing and mask-wearing), meet these criteria as close contacts and therefore would not need to quarantine.  If a staff member had worked closely with a student, especially if without a mask, then you would likely need to quarantine for 14 days if said student tested positive for COVID-19.
Students or staff who test positive for COVID-19
A student or staff member who tests positive for COVID-19 will need to isolate for a period of time after their diagnosis. Guidelines are currently a bit in flux due to new information, but you can anticipate that they may need to be absent for a minimum of 10-14 days from date of symptom start, assuming that they are then clinically improving.  Most young people who get this infection will start to improve within two weeks, but some may have a very serious or prolonged course of illness that could require them to be absent from school and work for many weeks to even months.
Our Priority is Your Health
This is a massive moment to examine our educational delivery and improve our practices. Our top priority in reopening our school is to provide a safe environment for learning. As a school, we will do everything in our power to make that happen.
As we near the beginning of the 2020-2021 school year, we will continue to update families about the reopening of Renton Prep as needed. If you have any questions or concerns about our return to the classroom, do not hesitate to contact us. Although the circumstances surrounding COVID-19 may not be ideal, we're very excited to see all of our students back in the classroom come August.