At Renton Prep, we value artificial intelligence (AI) and design thinking in education. Evidently, both aspects of education are strictly important to our school and the qualities that drive our teaching. Dr. Michelle Zimmerman's book explores AI and how implementing it in the classroom can benefit students beyond academics. To that end, throughout this article, Dr. Michelle Zimmerman shares her observations and insights on how AI is affecting all areas of life. Also, how educators prepare to teach about it while also practicing it. To see how Dr. Michelle Zimmerman addresses the definitions of AI, how AI is upending the workforce, and how to teach about and with artificial intelligence, click here.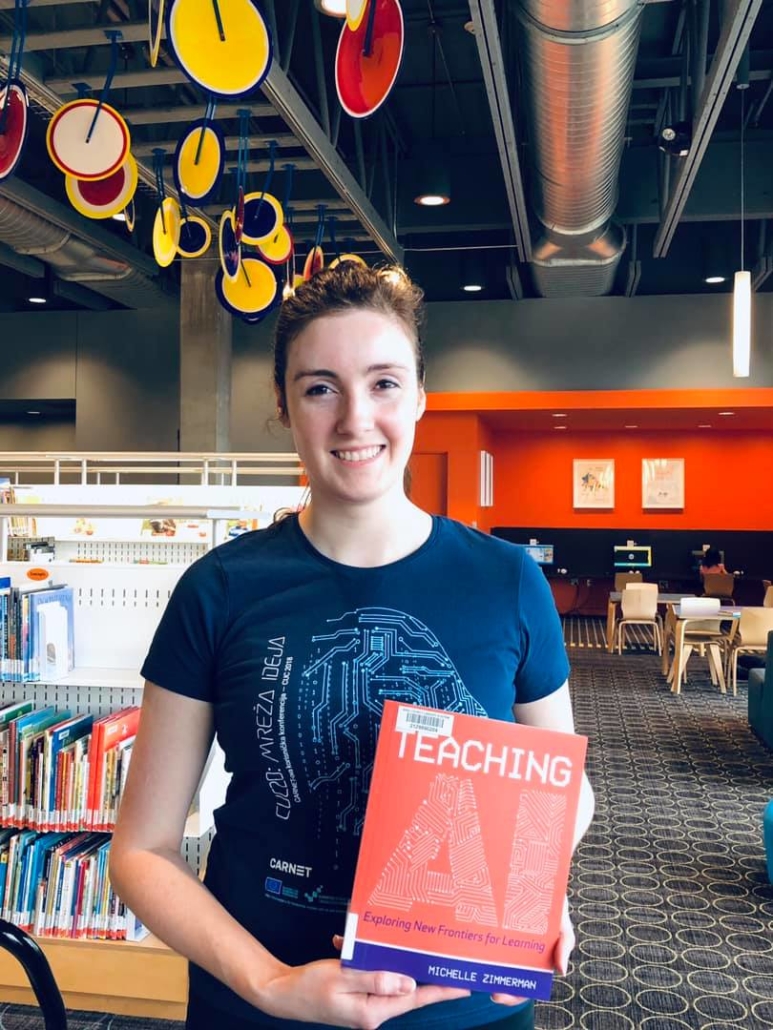 How Can Teachers Prepare for the Use of AI?
Generally, there's a tendency for things to be easier when a step by step process is drawn out for us. Unfortunately, in order for teachers to experience the true capacity of AI, they will need to be comfortable with operating through multiple domains without being given the entire process. Not only individually, but with other educators as well. When educators themselves have a good grasp of AI, the more accessible it is for students to capture the information and apply it to their own lives.
"Getting together a team of teachers that interact and draw ideas across domains can be a solid foundation. But that takes planning and changes. It's a bigger system challenge than just dropping in a piece of technology."


Dr. Michelle Zimmerman
What Resources Can be Used?
With the growing world of technology, more tools are bound to be created and discovered. Students can be more prepared to use AI functionalities in the industry by learning and practicing those concepts from a basic level and beyond. So, to help advance and incorporate AI in the classroom, there are many tools such as the following:
Renton Prep currently uses Hacking STEM, ALEKS, and Microsoft Sway. These tools help students in many ways, from identifying what they know in a course, to completing STEM projects.
What Roles Should Schools Play in AI?
Using the tools mentioned above can be a tremendous help for schools to practice artificial intelligence. Particularly, an aspect that is eminent in the workforce is collaboration. Having the ability to collaborate with others and find commonality is a significant quality to obtain.
Computational Thinking
In a series of points, here are some characteristics that are involved in successful computational thinking:
Organizing and analyzing data
Automating solutions through algorithmic thinking
Identifying, analyzing, and implementing possible solutions to achieve effective steps and resources
Generalizing and transferring problem solving processes to a wide variety of problems
Academically, teachers frequently teach kids how to code. Within coding, students can either follow a step-by-step process or practice computational thinking. The problem is, computers are able to execute computational thinking. That's why, according to Dr. Michelle Zimmerman, young people and students need to learn how to work around problems without being given each step.
"At a certain point, machines will be able to create basic code more efficiently than kids. So if coding becomes something students are doing step-by-step by memorizing a process, without practicing the mindset that allows them to do computational thinking, there's a chance machines will pass them up."




Dr. Michelle Zimmerman

The Relevance of AI
Undoubtedly, there is more relevance to AI than for just teachers and students with an interest in technology. In today's day and age, it's very rare to encounter work that doesn't involve some sort of technology or machine thinking. AI plays a highly critical role in not only the development of business and processes but also in humans to the next level. AI helps reduce human efforts while still demanding the knowledge to execute a faster and more efficient outcome.
"Educators need to be aware themselves so they can help students be inspired for future careers."

Dr. Michelle Zimmerman
A Journey to the Summit
Massive results won't happen overnight. We need to begin implementing competent strategies as soon as possible to prepare our future leaders. While initiating goals for today, we can see results tomorrow. And when committing to these academic goals in education, growth will reveal itself over time. At Renton Prep Christian School, we work together by taking new steps every day. Without the drive and ambition, how will our students be motivated? To learn more about AI, get a hold of Dr. Michelle Zimmerman's book Teaching AI: Exploring New Frontiers for Learning or read a previous article about it. Contact us today to be a part of our school.
https://rentonprep.org/wp-content/uploads/2019/03/RPCS-Blog-Dr-Michelle-Zimmerman-Insights-on-AI-and-her-new-book.jpg
504
1021
Abbey Zenk
/wp-content/uploads/2016/08/RentonPrepLogo-2014Dec30-WHTrgb-300x136.png
Abbey Zenk
2019-04-08 08:16:38
2019-04-15 06:59:10
Exploring AI: Dr. Michelle Zimmerman's Book